Bike Check: a 90s Nike Airmax inspired by Full Suss steel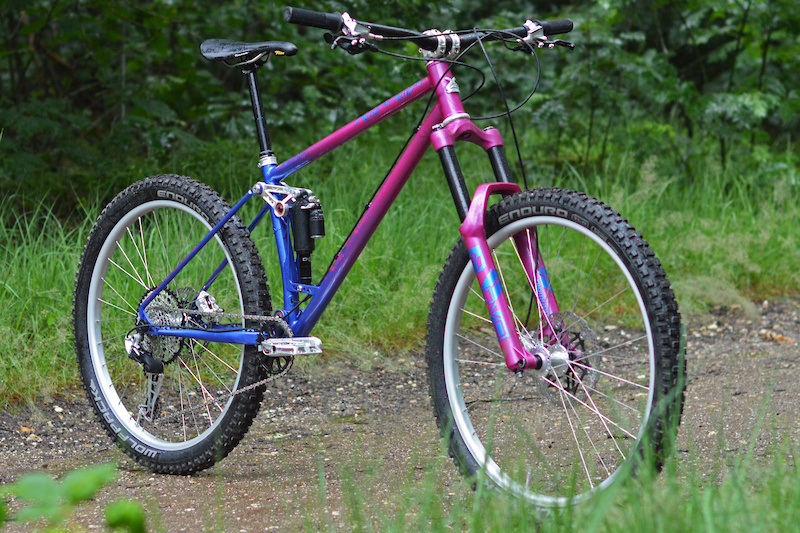 Over the past few weeks we've seen paint jobs inspired by heavy metal, hornets, and even search and rescue planes, but there haven't been as many as striking as this Project12 Cycleworks Vertigo which was inspired by a Nike Airmax trainer in the 90s.
We have already covered Project 12 for his Dutch Victor Downcountry, but this is the big brother, the Vertigo. Rather than the 95mm of travel of the Victor frame, the Vertigo has 153mm of travel with 27.5 "wheels and is designed to tackle bikeparks outside of its home country. This one is owned by a retro bike collector who was drawn to straight steel tubes with mesh welded joints from builder Michiel Burgerhout, but to make it even more retro he added this wild paint job.
Apparently it took 6 months of researching, de-anodizing and polishing the parts for the build to come together and then it was finished with a paint job from Cyclepaint.nl. Even Michiel himself contributed by swapping his normal brass head tube badge for a custom-machined aluminum one. Let's go into all the details.
Michiel works tons of cool details in his frames
The discoloration from pink to blue is carried out by Cyclepaint.nl
A mix of Ingrid, SRAM and Garbaruk parts make up the drivetrain.
Silver details include a custom machined aluminum head tube badge.