DC's Batman Confronts a Demon in Dark Knights of Steel #7 (Review)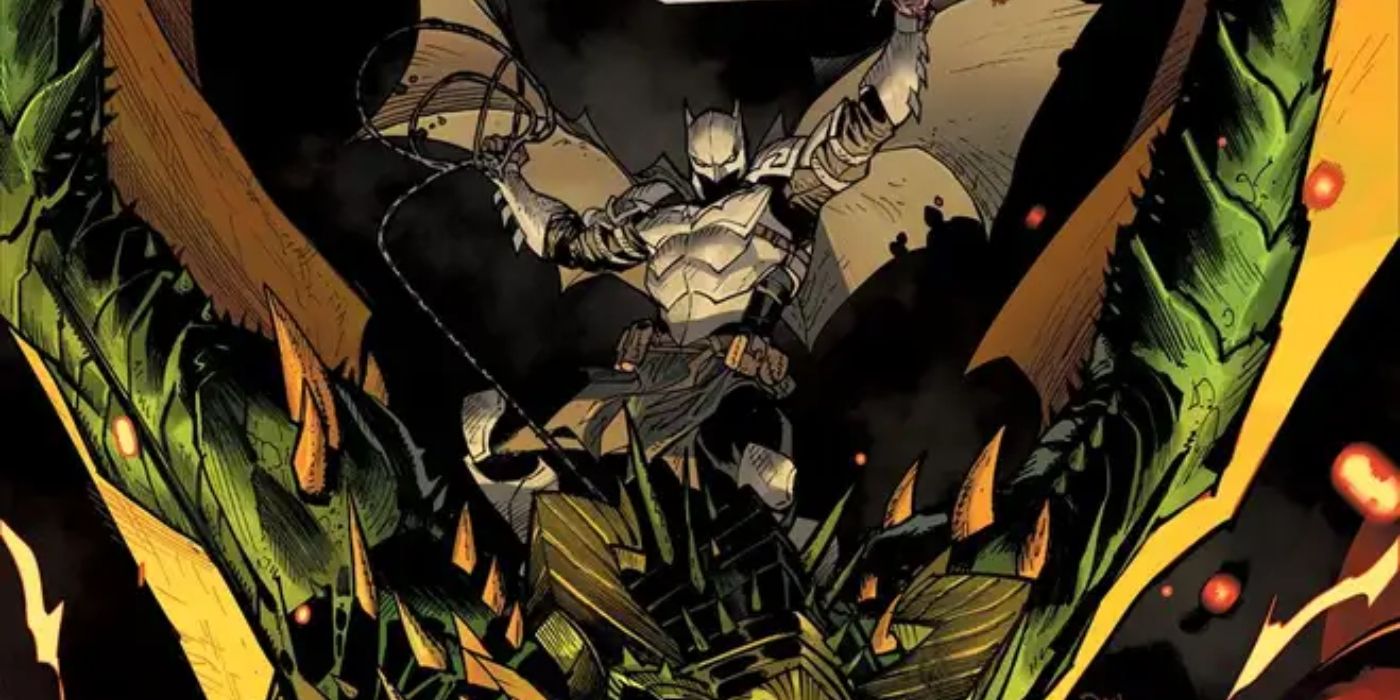 While King Jor-El's death may have set off a chain of events across all the realms, it was King Jefferson's assassination at the hands of Zala Jor-El that set the world on fire. The war is fast approaching and each player on the board has chosen a side. With Batman indisposed, impaled on a Kryptonite shard by Prince Kal-El, there is imminent danger as his homeland approaches. This dangerous world of Black Knights of Steel is ruthless, sending a demon from hell on the Titans of this earth. Written by Tom Taylor with art by Nathan Gooden and Arif Prianto, letters by Wes Abbott and published by DC Comics, Black Knights of Steel #7 gives Prince Wayne a chance to embrace his past and step into the light.
Black Knights of Steel #7 opens with a nightmare. The Kingdom is burning, the Els are scorching the earth with their vision of heat as the evil Green Man's laughter rings out. Bruce wakes up in the quaint neighborhoods of Martha and Jonathan Kent, but he's not out of danger yet. Fortunately, a group of overpowered children, the Titans, who had taken refuge in the Kent farm, save the life of Prince Wayne while they are mortal enemies. This causes Bruce to re-evaluate his life's mission, but his apology is cut short when Ra's Al Ghul, host of the demon Etrigan, shows up outside the farmhouse and states his demands: abandon the Titans or face the League's wrath. of Shades.
RELATED: REVIEW: DC's Multiversity: Teen Justice #1
Habits and beliefs are hard to break, and the internalized ideas that form over time are often too deeply rooted. For a long time, Bruce waged a war on magic users, accusing them of wreaking havoc on the kingdom, a reaction to his psychological trauma. Meeting the Titans was a reality check for him, eliciting a sense of remorse born of gratitude. Black Knights of Steel #7 flows in a linear fashion, keeping Batman front and center. The continuous back and forth between the characters in a heated exchange keeps the plot intriguing, allowing each of their characteristics to shine through. When the need arises, however, it's spectacular action madness. As this universe finally takes shape, writer Tom Taylor deems the timing opportune to bring in new heroes, and readers are here for it.
Artist Nathan Gooden's illustrations are rich and vivid, immersing audiences in a vibrant world full of chaos and darkness. Her illustrations effortlessly bring out the fantastical feel of the world, whether it's the jewel-encrusted armor or all the flapping swords, or perhaps it's just the serenity of a farmhouse in the middle of a field. wheat. However, one thing is certain: since the start of the series, Gooden has been pushing the limits of the work of art. With Black Knights of Steel #7, he takes his time to stir up the action, literally bringing a dragon into demonic combat. Colorist Arif Prianto paints a gloss over the panels, using abundant lighting and bold colors to bring the pages to life.
RELATED: REVIEW: DC Pride 2022 #1
Black Knights of Steel #7 begins with an omen, winds through solemn and heartfelt moments, and ends with a bang, giving readers everything they could want from a fantasy adventure. It's fascinating how Tom Taylor incorporates the DC Comics universe into his story, often creating composites of multiple characters but with enough tinkering to make them his own. While previous issues featured multiple narratives that intertwined like a country road, building the world around the Els, as the series progressed the focus now shifted to character development. Black Knights of Steel #7 ends with an intriguing revelation, giving Prince Wayne a knightly quest to forge a league to save the world.