SMM's latest update on China's social inventory of aluminum ingots and billets as of October 13 _SMM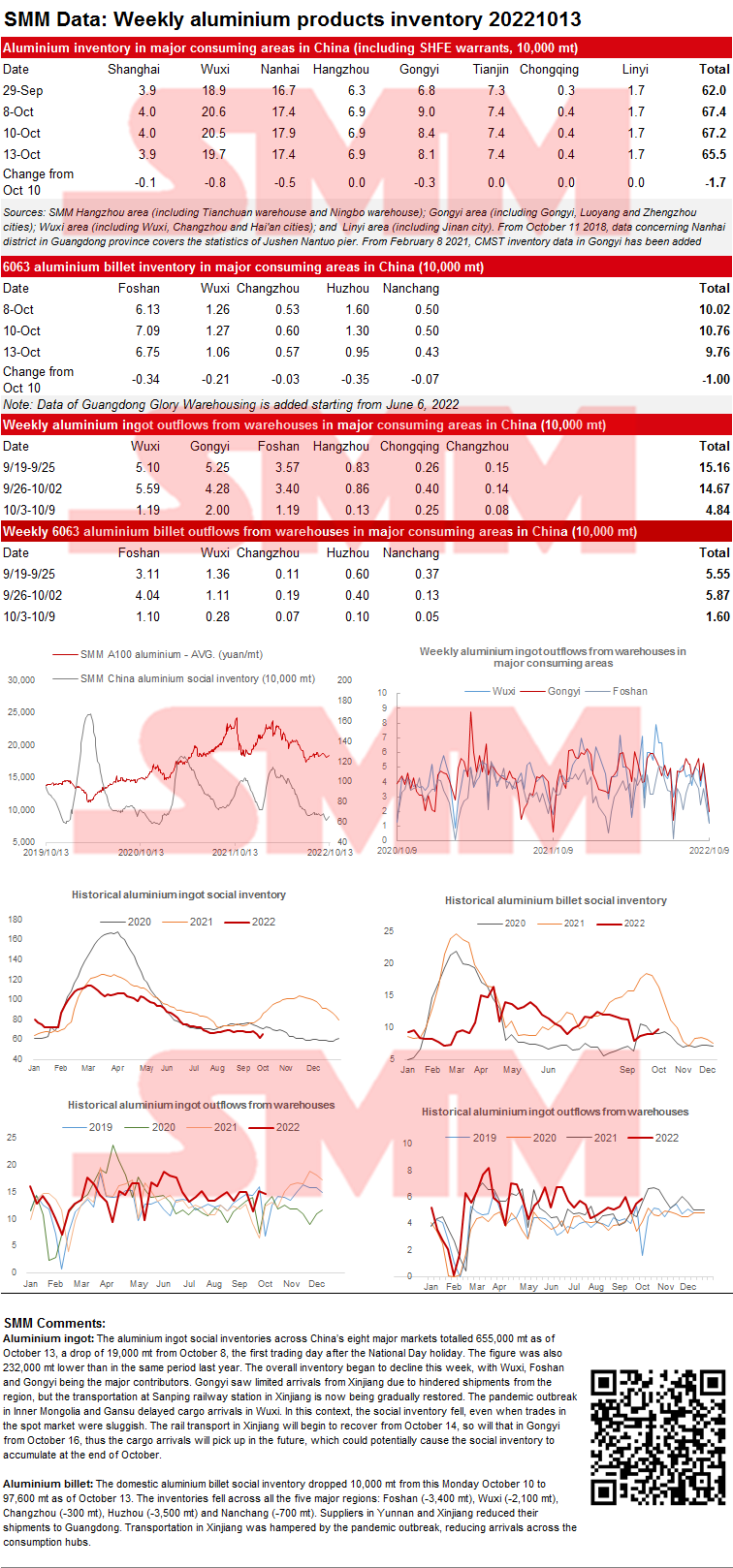 SHANGHAI, Oct. 13 (SMM) – SHANGHAI, Oct. 13 (SMM) – Aluminum Ingot: Social stocks of aluminum ingots in China's eight major markets totaled 655,000 tons as of Oct. 13, down 19 000 tons compared to October 8, the first trading day after the national holiday. The figure was also 232,000 tonnes lower than the same period last year. The overall inventory started to drop this week, with Wuxi, Foshan and Gongyi being the main contributors. Gongyi has seen limited arrivals from Xinjiang due to hampered shipments from the region, but transportation at Sanping Railway Station in Xinjiang is now being gradually restored. The pandemic outbreak in Inner Mongolia and Gansu has delayed cargo arrivals in Wuxi. Against this backdrop, social inventory declined, even when spot market transactions were sluggish. Rail transport in Xinjiang will begin to recover from Oct. 14, as will that in Gongyi from Oct. 16, thus freight arrivals will resume in the future, which could potentially lead to a buildup of fine social inventory. october.
Aluminum Billets: The national social inventory of aluminum billets fell by 10,000 tons since Monday October 10 to reach 97,600 tons as of October 13. Stocks fell in the five major regions: Foshan (-3,400 tons), Wuxi (-2,100 tons), Changzhou (-300 t), Huzhou (-3,500 t) and Nanchang (-700 t). Suppliers from Yunnan and Xinjiang reduced shipments to Guangdong. Transportation in Xinjiang has been hampered by the pandemic outbreak, reducing arrivals at consumption centers.